Sponsrat av Montana Furniture
An office story and a life in colors – With Montana Furnitures
Har du testat att inreda med färg? Det händer någonting med en. Det är som att någon petar på dig och säger ivrigt; vakna, vakna nu då! Färger triggar något i oss, även om vi ibland har svårt att förklara exakt på vilket sätt, eller varför för den delen. Färg bidrar till hur vi mår, hur vi är mot andra och hur vår sinnesstämning är. Vilket i slutändan påverkar resten av livet, eller hur? Så det kan ju vara värt att tänka på vilka färger man har i sitt liv, och vikten av att skapa miljöer du mår bra av – varje dag.
"A dream office reflects the people working there"
Vi funderade på var vi spenderar mest tid och svaret kom med en viss självklarhet: på jobbet! Så vi bestämde oss för att färglägga platsen där vi spenderar en stor del av vårt liv. Vi ville skapa en miljö som gör oss glada, kreativa och produktiva och temade ihop oss med proffsen över sundet. Montana Furniture har tagit inredningsvärlden med storm de senaste par åren. För Montana är det en självklarhet att färglägga livet och skapa arbetsutrymmen och privata platser där man kan arbeta och leva bättre. Vi fick möjlighet ställa några frågor om till Montana om färg och deras inredningsfilosofi. De berättar om deras prisbelönta colorist, varför inredning är viktigt och hur man skapar rum där hela livet får plats och allt vad det innebär att vara människa.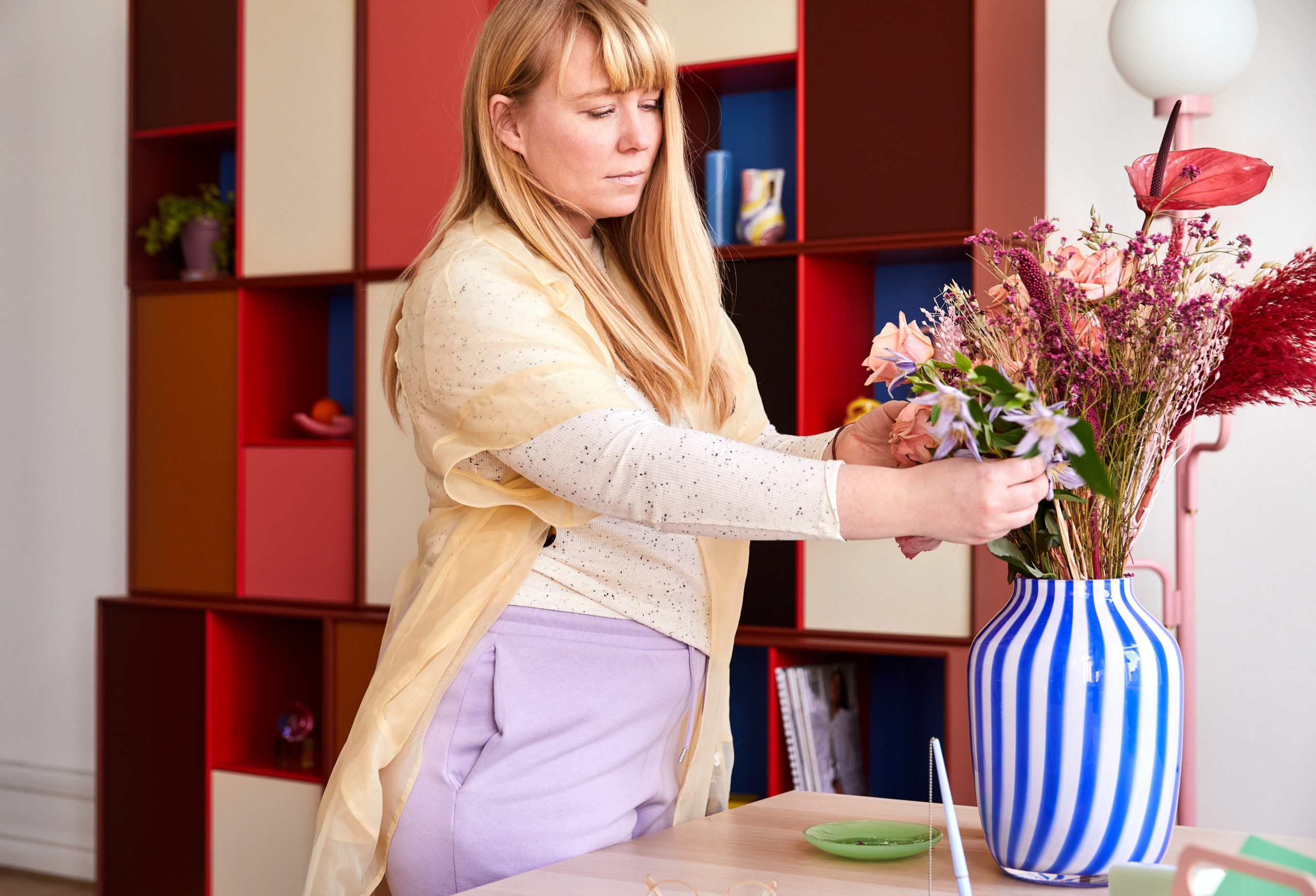 Hey guys. Tell us about Montana!
Montana Furniture is a family-owned company that was founded in 1982 by Peter J. Lassen, who also created the modular Montana System. Today, the company is run by Peter's son Joakim Lassen. 
You guys often talk about "playful optimism", what does that mean to you?
Playful Optimism is one of our colour styles. We create colour styles to explore the different ways you can combine the colours in our colour palette. We have also created colour styles called Soothing Sanctuary and Timeless Functional – you can experience them all here.
Describe the perfect spot for creativity!
The perfect spot for creativity should be a place where you feel comfortable, relaxed and inspired.  
Montana have really brought colors into our homes. What do color and playfulness mean to you?
We believe that colours are a way of expressing emotions, and through colours we can express our personalities. 
"We're nourished by our surroundings"
Why Is color important?
Especially in times like these, we all need colours and playfulness in our everyday life. 
We spend 1/3 of our lives in the office, so it most definitely should be a place you love. How do Montana contribute to a better office setup?
A great (home)office setup needs a lot of storage opportunities – both closed and open storage. With Montana you can tailor a composition that fits your specific needs. And if your work situation changes, you can switch the modules around, divide it in new sections or add more modules. Furthermore, you can choose between 40 colours and 4 different depths. The Montana System is certified with the EU Ecolabel which makes it a safe choice for you, your surroundings and the environment.  
What are YOU creating?
Any ground rules when it comes to decorating with colors? Or in life? What's Montana's main philosophy?
We believe in creating possibilities. Montana's founder Peter J. Lassen once said; "What are you creating? If your answer is solutions, it's an ending. But if you answer, I'm creating possibilities, it's an opening."
"Colours are light and light is life"
Describe a dream office?
A dream office reflects the people working there. The interior should inspire and engage. We believe using colours is a way of creating a space like this. 
Best ways to customize your office?
Create a personal office space with the ideal conditions for productivity and that cultivates creativity.
How can a colorful space contribute to our everyday life, you think?
Colourful surroundings bring joy and character to a room. Award-winning Danish designer Magrethe Odgaard who created our colour palette once said; "Colours are light and light is life. Light is the energy that can lift us up and carry us forward. As humans, we're nourished by our surroundings. Colours constitute energies and moods, and play an unconscious role in creating a good atmosphere." 
Any styling advice? Any rules to follow? Or break?
Invest in furniture that can last a lifetime and that is multifunctional and changeable, so it can follow you in the different stages of your life. You will never regret spending money on quality. 
Thank you for all the inspiration!
Thank you! 
Foto: Lina Arvidsson
Styling: Christin Clausen-Bruun